In the few short years since its 21st-century reincarnation, legendary American motorcycle maker Indian has once again become a brand to be reckoned with. Now owned by Polaris—renowned maker of snowmobiles, Sea-Doo, and Slingshot—Indian Motorcycle has delivered a line of fantastic American-made bikes that flat-out succeed on every level. Enter the new 2022 Indian Chief muscle cruiser—which features a classic, stripped-down silhouette, a sporty 64-inch wheelbase, and a powerful V-twin powerplant that surely rivals the engine in my Prius.
It looks good, sounds great, and is a kick-in-the-ass to ride. A full century since the original Indian Chief was unveiled in 1922, the 2022 Indian Chief has clearly done its long lineage proud.
Brutal Beauty
A muscle bike for the new millennium, the 2022 Indian Chief has sexy lines and raw, unbridled power. That combination of style and performance gives it an aesthetic appeal that hinges on its purpose-driven design, like the muscle cars of yore.
Nothing here is superfluous. Nothing on this bike doesn't have a serious job to do. That said, it's far more than a functional machine. There's no Sons of Anarchy-style mini-fairing, no neo-retro fender skirts, no corny fringe draping from its handlebars. The lines are pure, smooth, and appealing. Indians are renowned for their nostalgic design, and Polaris leaned hard into that retro aesthetic when it first revived the Indian brand in 2014. But the 2022 Chief eschews those stylistic trappings for a bike that's made to ride—hard and fast.
Like all Polaris machines, the new Chief takes unapologetic advantage of modern technology despite its purpose-built aesthetic. It sports a host of contemporary perks like keyless ignition, LED lighting, selectable ride modes, standard cruise control, optional ABS, and a bullet-style "speedo" that houses what might be the most user-friendly infotainment system I've ever used.
That's right—with all its brutal beauty and raw power, the feature that really sticks with me after a couple days of flogging the Chief down the back roads of northern Arizona is the remarkable touchscreen infotainment system that adorns its handlebar. About the same size as a typical speedometer, it houses a miniaturized version of Polaris' unbeatable Ride Command system. This includes turn-by-turn navigation, Bluetooth connectivity, and all the gauging and ride information you could possibly want. All of this is on a 4-inch touchscreen that's easy to use with gloves on or in the rain.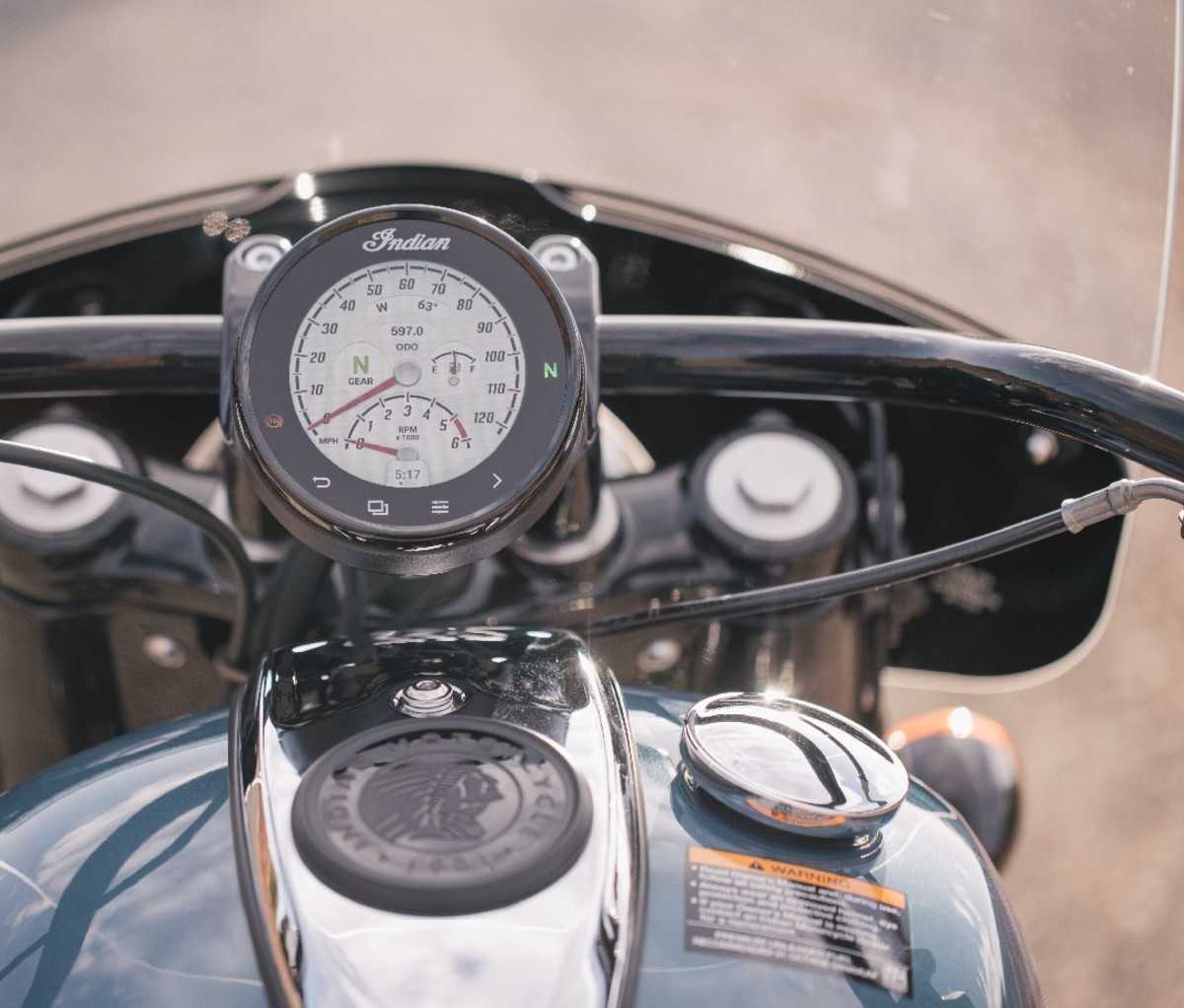 Nuts 'n Bolts—and Not Much More Needed
Digging into this brand-new muscle cruiser from America's first motorcycle company, the 2022 Chief has a few distinct versions and a plethora of optional accessories.
Because of its purpose-driven simplicity, the 2022 Indian Chief is one of the most affordable big twin American cruisers on the market. The base-model Indian Motorcycle Chief starts at $14,499. An impressive price point for a full-sized cruiser made in the USA, it's competitive with Harley-Davidson's base model Softails. The Chief is powered by a 111-inch (1,811 cc) Thunderstroke v-twin that makes a delicious 108 lb-ft of torque at a resonant but relaxed 3,200 rpm. It has a simple solo seat, mid-foot controls, and comes in black. Colors, accessories, and features like ABS elevate the price from there.
For $15,599, you can go with the Chief Bobber a purely cosmetic, street-ready package with fatter tires, a mini-ape handlebar, and forward controls. It's a cooler profile than the base model Chief and a more fashionable riding position. Comfort? Well, that's another issue. If you're not looking to commute or travel, but rather look cool as hell, the Bobber might be the Chief for you.
Accessories for both of these Chiefs include everything from spoked rims to alternate seats and handlebars. You can also pick up touring-ready amenities such as luggage racks and saddlebags, two-up seats and floorboards, and three sizes of windscreens.
Optional Stage 1 intake and exhaust packages boost performance even further, but if you're just looking for an entry-level, big-twin cruiser without a bunch of bells and whistles, either Chief would make a fantastic choice at a decent price.
Both the standard Chief and Bobber are stripped-down, American-made cruisers with a profile that's more than a little reminiscent of H-D's dear, departed Dyna line. Note the dual rear shocks. It's a bare-bones platform that allows owners to easily customize their motorcycle right from the catalog.
Customization is what made Harleys and Indians so popular back in the 1940s and 50s, and ultimately resulted in Easy Rider-esque choppers of the 70s, as well as the American Chopper-inspired custom cruisers of the early 2000s. Thanks to the popularity of that reality TV show, too many cruisers these days arrive in dealerships as overly styled, with a price tag to match. Not only does this approach take personalization—and frankly, much of the joy—out of the hands of the bike owner, it makes the cost of owning an American cruiser unattainable for many. True motorcycle enthusiasts will appreciate this new Chief as a platform that allows them to build out the bike they want at an entry-level price they can afford.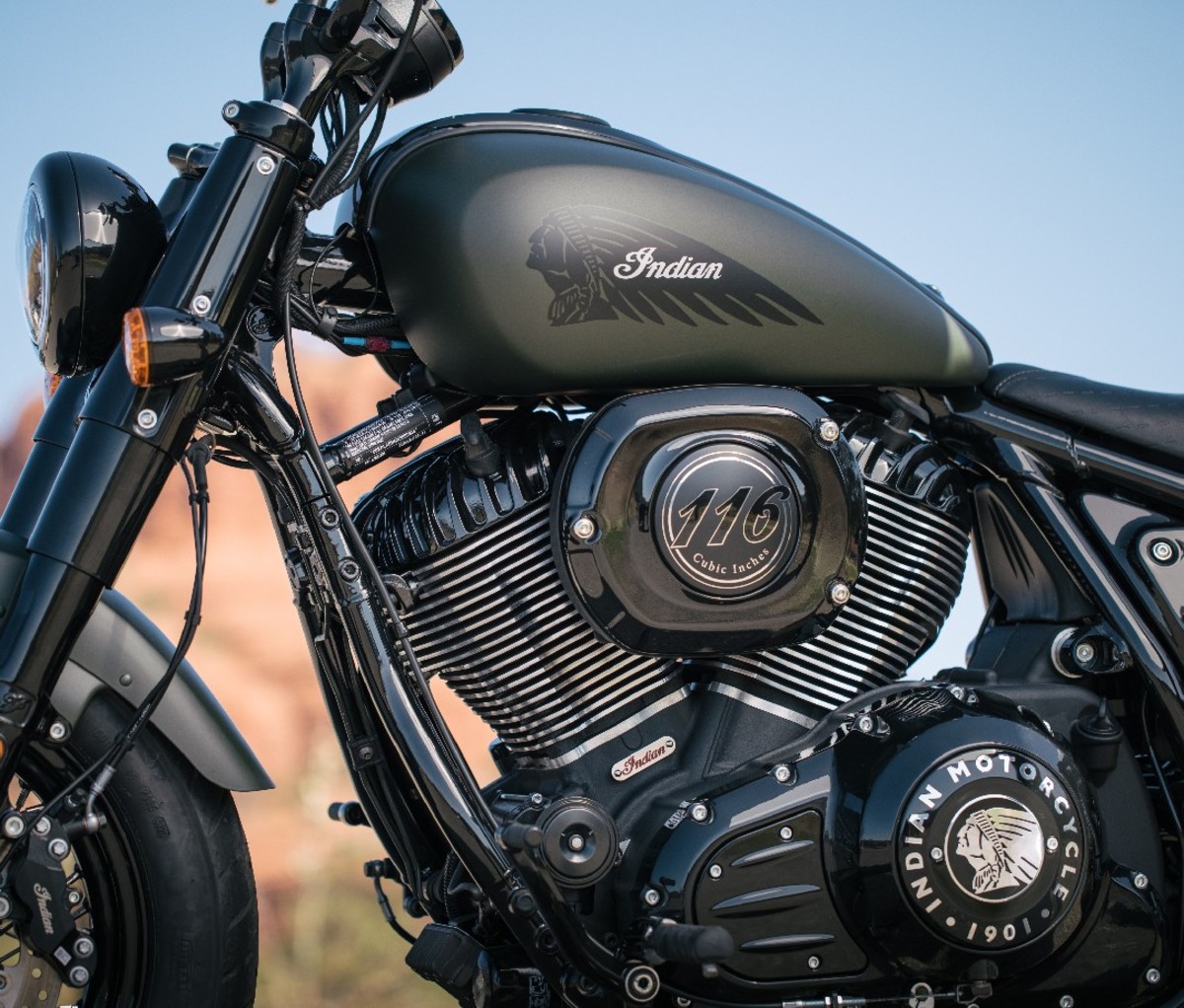 If you want a more practical Chief for traveling or commuting, opt for the highway-ready Super Chief ($18,499). It comes standard with most of the long-haul accessories mentioned above, plus soft leather, 10-gallon saddlebags that offer plenty of storage space. The ergonomics of the Super Chief are by far the best in the product line, with floorboards that give the rider room to move around. A large headlight bucket adds some girth and flair to the front end, while the chill-cutting windshield had many of the riders on our frigid press ride bartering for some time in its saddle.
Despite the saddlebags, windshield, and floorboards, the Super Chief provides handling and maneuverability that many large touring bikes just can't match, thanks to its surprisingly short 64-inch wheelbase. That maneuverability makes what looks like a wieldy highway pig from the curb feel like a nimble power cruiser from the cockpit—all for a full $1,000 less than the Harley-Davidson Road King.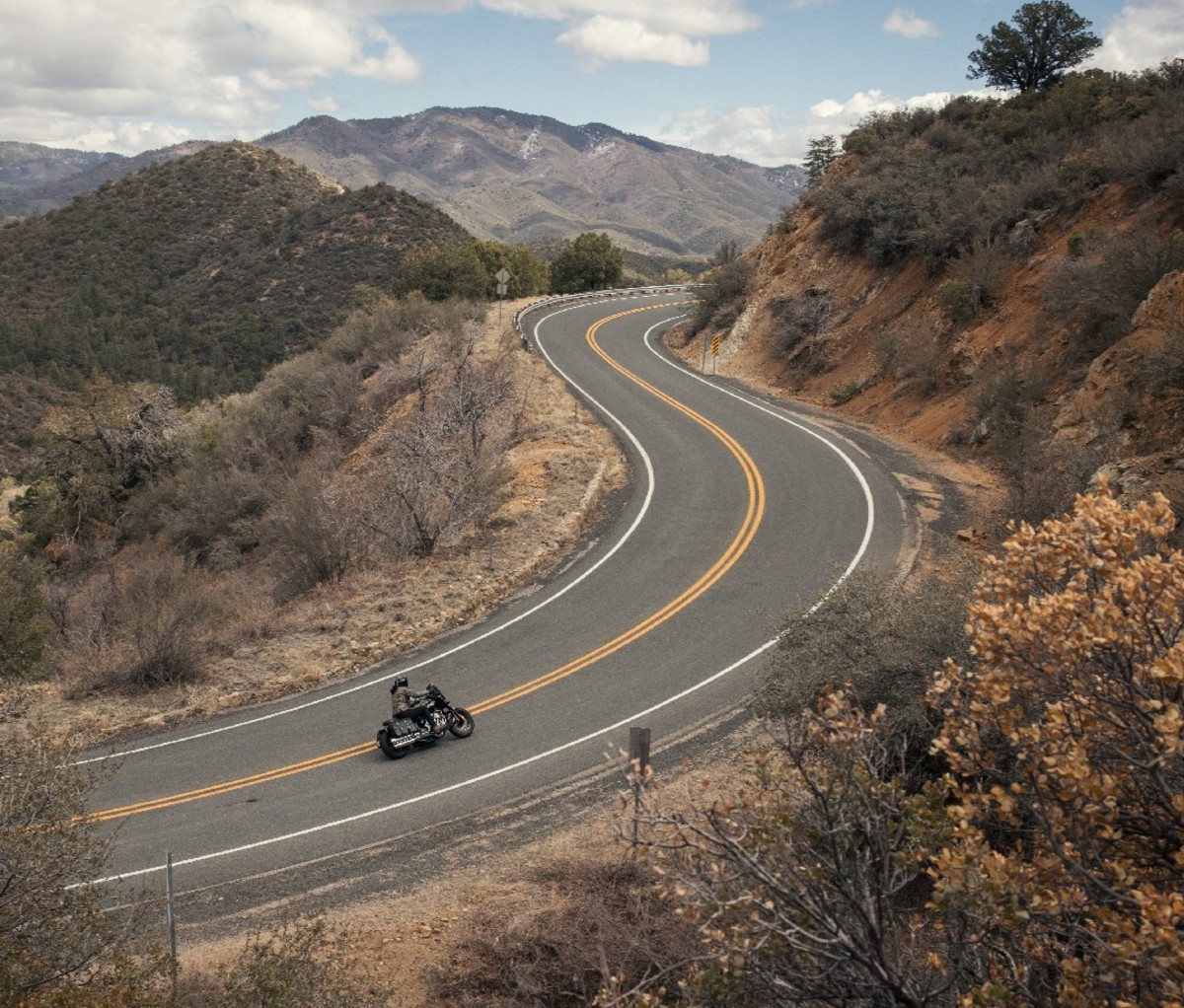 For those looking for a bit more Chief, up-spec versions of all three of these bikes—Chief, Chief Bobber, and Super Chief—are a $2,500 bump across the board. These packages include the amazing touchscreen Ride Command infotainment unit, and much more. You also get ABS, plus a larger, even more dynamic and powerful 1,890 cc engine. If you're looking for a monster American cruiser with muscle car style and performance, these up-spec Indian Chiefs readily rival imported power cruisers like the Ducati Diavel, Triumph Rocket III, or Yamaha V-Max.
And they're all made right here in Spring Lake, Iowa. That's something even Harley-Davidson zealots can appreciate.
On the Road
With its stripped-down minimalism and attitude, the new Chief attacks the pavement. Diving into corners and throttling away from traffic knots, the Chief is punchy and throaty from the line, smooth and responsive at highway speeds, and rocks top-end acceleration that pushes the speedo needle past three digits. As a "muscle cruiser," it succeeds on every level, prowling the boulevards and roaring down freeways with menace.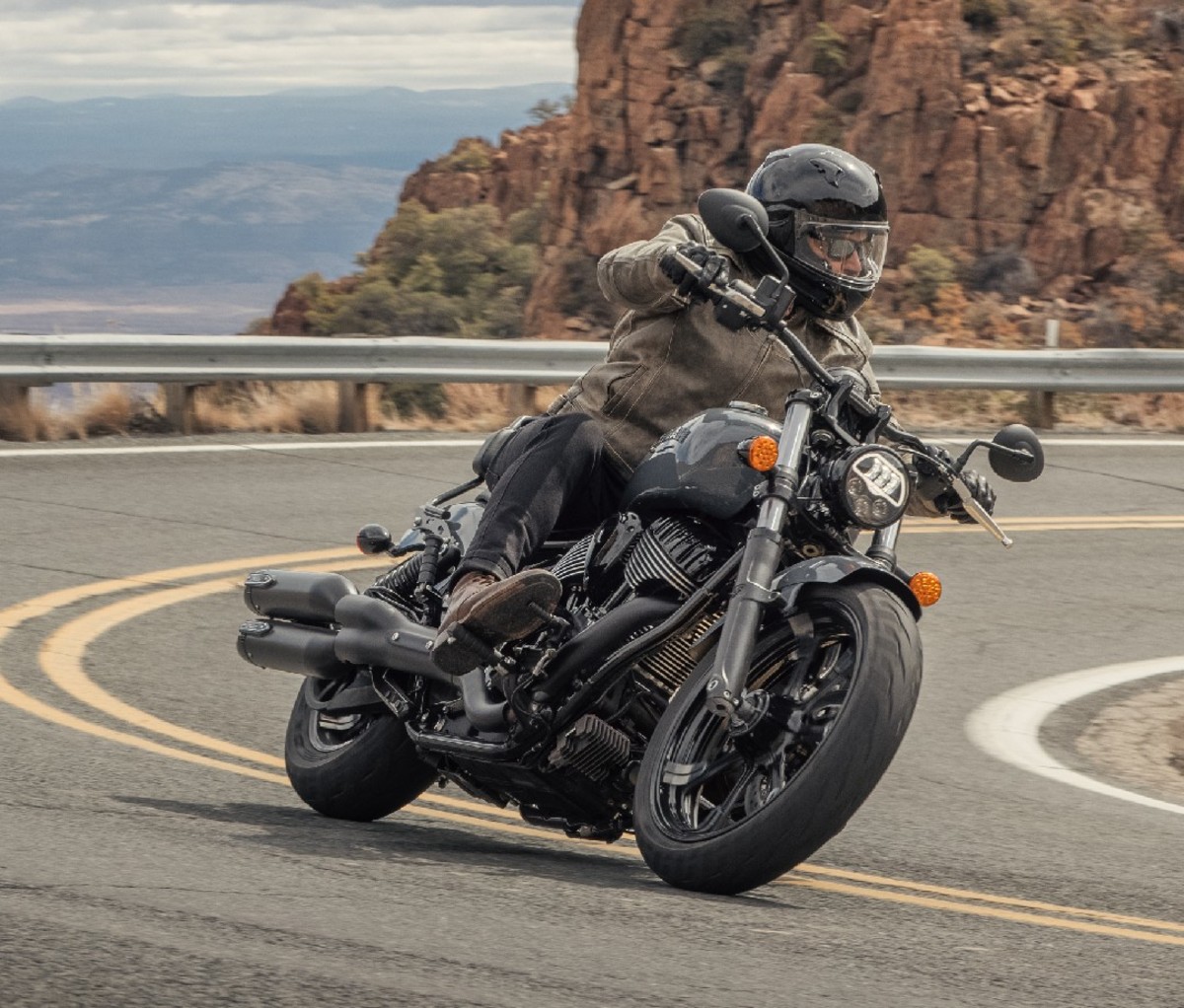 Handling is phenomenal. The Chief is a big bike, but that relatively short wheelbase and low center of gravity provides plenty of stability; it's planted on the pavement no matter how intense those twisties get. Braking is sure and precise, and suspension is forgiving. On an all-day ride that went from desert sweepers to tight mountain passes in a matter of minutes, the Chief attacked every turn with fearlessness and aplomb. Pity those who use it strictly for stylin' and profilin', this bike demands to be pushed—hard and with no quarter.
If comfort is at the top of your wish list, get floorboards on your Chief. Your hips and back will thank you for providing your lower half some room to maneuver while in the saddle. If performance is your thing, achieve both by opting for one of the up-spec models. Here's why you'll be glad you did.
Ride Command
The big prize for your extra money is that killer Ride Command module. This is hands down the best infotainment unit I've come across on a motorcycle. It's the same technology that's mounted in the fairings of Indian's high-end baggers and touring bikes, as well as in the dashboards of many of Polaris' RZR and General UTVs—except in a tiny, easy-to-use, 4-inch version.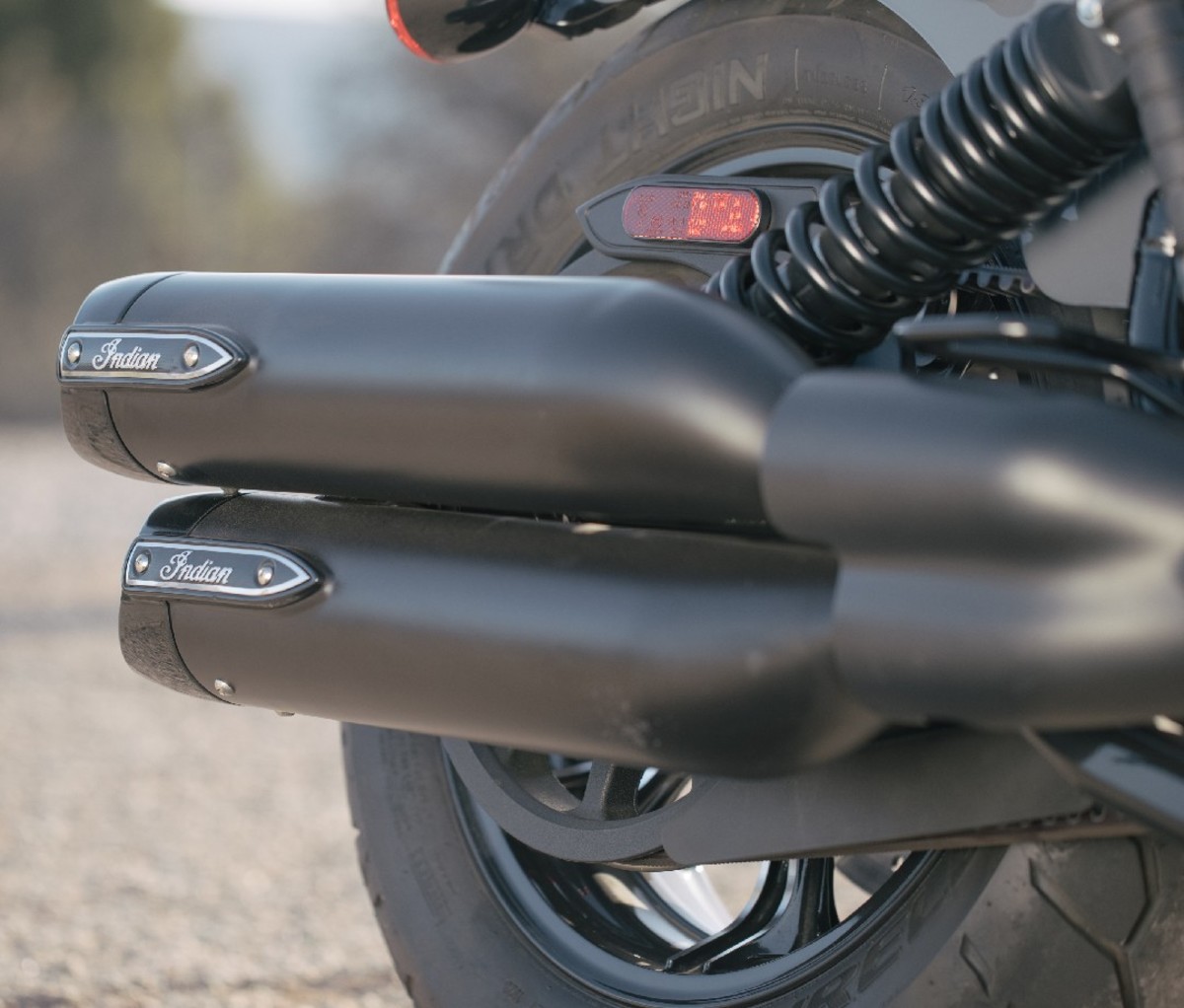 The unit maintains the Indian's classic design aesthetic by disguising itself as a typical speedometer gauge. Of course, it does function as both a speedo and tachometer, while also providing a full color map with turn-by-turn navigation (with live weather and traffic). It gives full instrumentation and ride information, with everything from ride time and outdoor temperature to oil pressure and voltage, right down to your current tire pressure. Finally, if you have an in-helmet communications system such as the Cardo PackTalk Bold, you can even Bluetooth it to your phone to manage your music or handle phone calls while riding. With gloves on. In the rain.
Seldom does a feature come along that completely changes the game in motorcycling. This speedo-sized, 4-inch infotainment system does exactly that. Motorcycle infotainment units haven't been around for more than a few years, and they're usually reserved for giant highway bikes with fairings because they need to be mounted in a dashboard due to the size. No more. Shrinking and squeezing all that valuable info into a unit that's no larger than your typical speedometer is a revelation.
In a surprising bit of salesmanship from Indian, if you want this how-did-I-ever-ride-without-it Ride Command unit, you'll have to pony up the added $2,500 for one of the up-spec models. It's currently not available as an accessory option.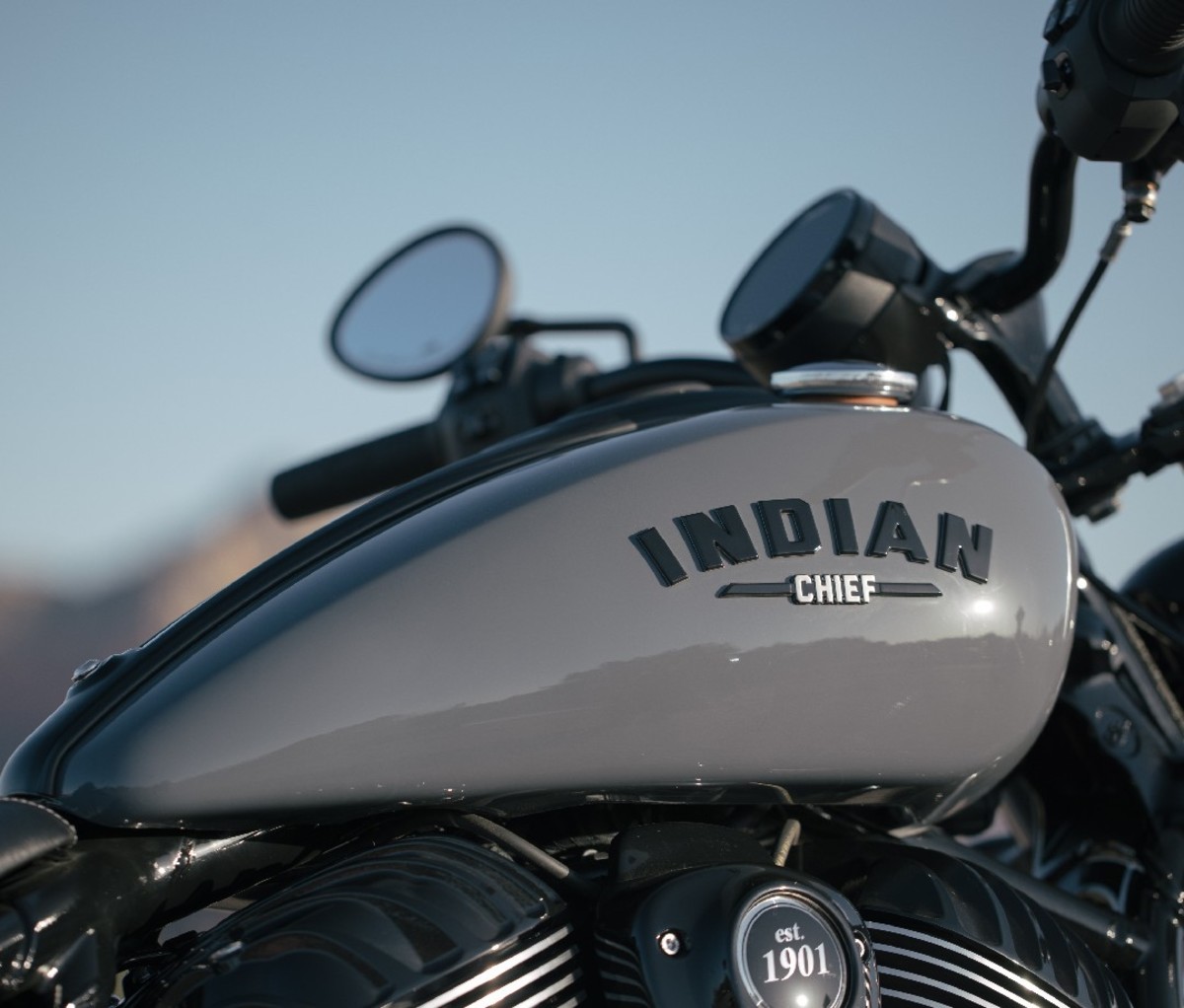 That said, Indian is renowned for consulting with its owners' groups for feedback. Once word gets out about this marvelous unit, we're guessing other Indian owners will be clamoring for it on their motorcycles. I'm hoping it won't be long before Indian puts the speedo-sized Ride Command module on the parts shelf as an optional accessory. Your move, Indian.
Polaris' Ride Command has always been one of the best infotainment systems on the market. But we've never encountered any infotainment unit so small, let alone one that worked this intuitively. Heck, all motorcycles should have one—and we're guessing it won't be long until they do.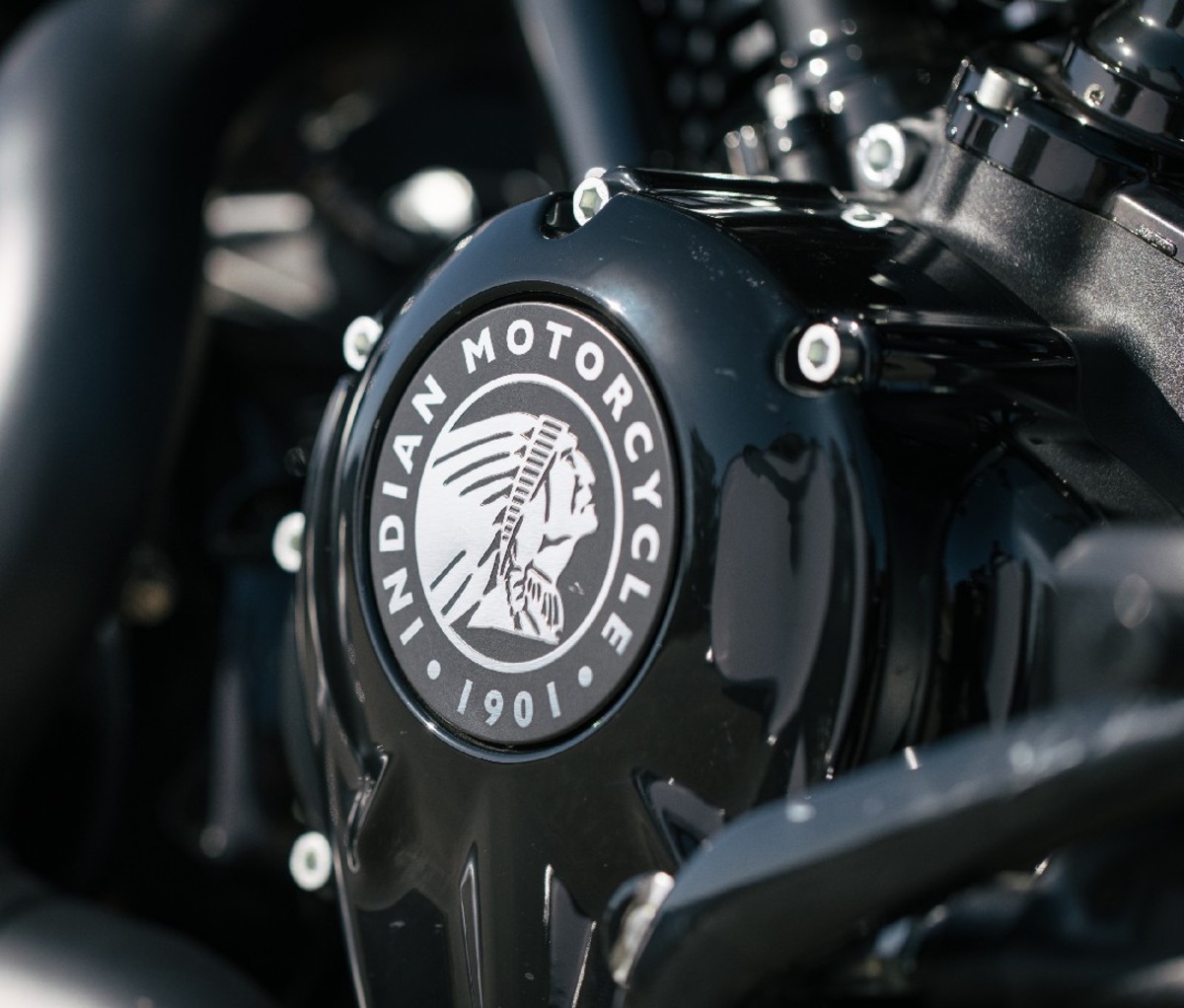 What's the Verdict?
Put simply, the new Indian Motorcycle has done it again. The Chief is far more than just an homage to its 100-year-old forebear. It's a perfectly modern, impressively appointed, brutally beautiful muscle cruiser. In any of its various renditions, this bike will appeal not just to Indian fans who wanted fewer old-school stylistic treatments, but also to open-minded Harley-Davidson fans who pine for the dear, departed dual-shock Dyna.
The Chief is a remarkable machine, to be sure. Here's hoping Indian Motorcycle realizes the real gem it has on its hands—the new, 4-inch Ride Command Infotainment module.
[From $14,499; indianmotorcycle.com]
Learn More