Summer is in full swing and, with temperatures rising, who doesn't want a cold, sweet treat to beat the heat? Ice cream, of course, is the classic failsafe. It's undoubtedly indulgent: high in calories, low in nutrients—notably loaded with sugar and saturated fat. In moderation, have at it. Food is meant to be enjoyed, and we're not here to demonize or banish. Healthy eating is a lifestyle you maintain for longevity, not a crash diet you suffer through for a blip of time. That said, if you're looking for healthier ice creams and ices that don't have as much of an impact on your health as a bowl of Ben & Jerry's, we have some satiating options.
First, a quick primer. Today, there are many marketing tricks that promote ice creams as "healthy," "low-calorie," or "light" when in reality they're far from it. To evaluate which ones are best, start with looking at the ingredient list and nutrition facts label. Don't base your decision on calorie count alone. Look at the sugar content, artificial ingredients added, and total fat content, too.
Use this as your guideline: Healthier ice creams and ices should have less than 200 calories per serving, 12 grams sugar (or less), and 10 grams total fat (or less).
Now that you know what to look for, take a look at our list of the best healthier ice creams and frozen treats to enjoy this summer.
10 Healthier Ice Creams and Frozen Treats to Beat the Summer Heat
1. Yasso Greek Yogurt Bars
Want indulgent, creamy desserts that taste as good as traditional ice cream, but with the nutritional benefits of Greek yogurt? You got it. These bars are lower in calories, packed with protein (in part from yogurt and milk protein concentrate), and void of high-intensity artificial sweeteners, like Stevia. Try the Chocolate Fudge Greek Yogurt Bar; it gets its fudgy flavor comes from Dutch cocoa and velvety texture from—you guessed it, Greek yogurt and nonfat milk.
Nutrition per bar: 100 calories, 12 g total sugar, 0 g total fat
Get it
2. Enlightened
Magic happens when you ramp up the protein content and cut back on sugar, but don't lose that classic ice cream taste and texture. Try Chocolate Chip Cookie Dough. Enlightened uses milk protein concentrate to get the typical 2 g up to 5 g, and monk fruit and erythritol (natural, zero-carb sweeteners) to cut back on the sweet stuff (7 g as opposed to the typical 18 g). It also substitutes skim milk for cream to lower the fat and overall calories per serving. The brand also offers low-calorie, keto, and dairy-free pints and bars that are 100 percent vegan.
Nutrition in ½ cup: 100 calories, 7 g total sugar, 5 g protein, 3 g total fat
Get it
Courtesy Image
3. Halo Top
Halo Top's mission was to create healthier ice creams for those days you just want to tuck into a whole pint. Its line of dairy pints are all between 280 to 380 calories (for the whole thing) and come in a ton of flavors to enjoy. Try Key Lime Pie (seasonal flavor) for lime-flavored ice cream studded with graham and meringue swirls. The brand uses Stevia, sugar alcohol, and cane sugar to lend sweetness with fewer calories. Look for its dairy-free and keto flavors too.
Nutrition per ⅔ cup serving: 120 calories, 10 g total sugar, 2.5 g total fat
Get it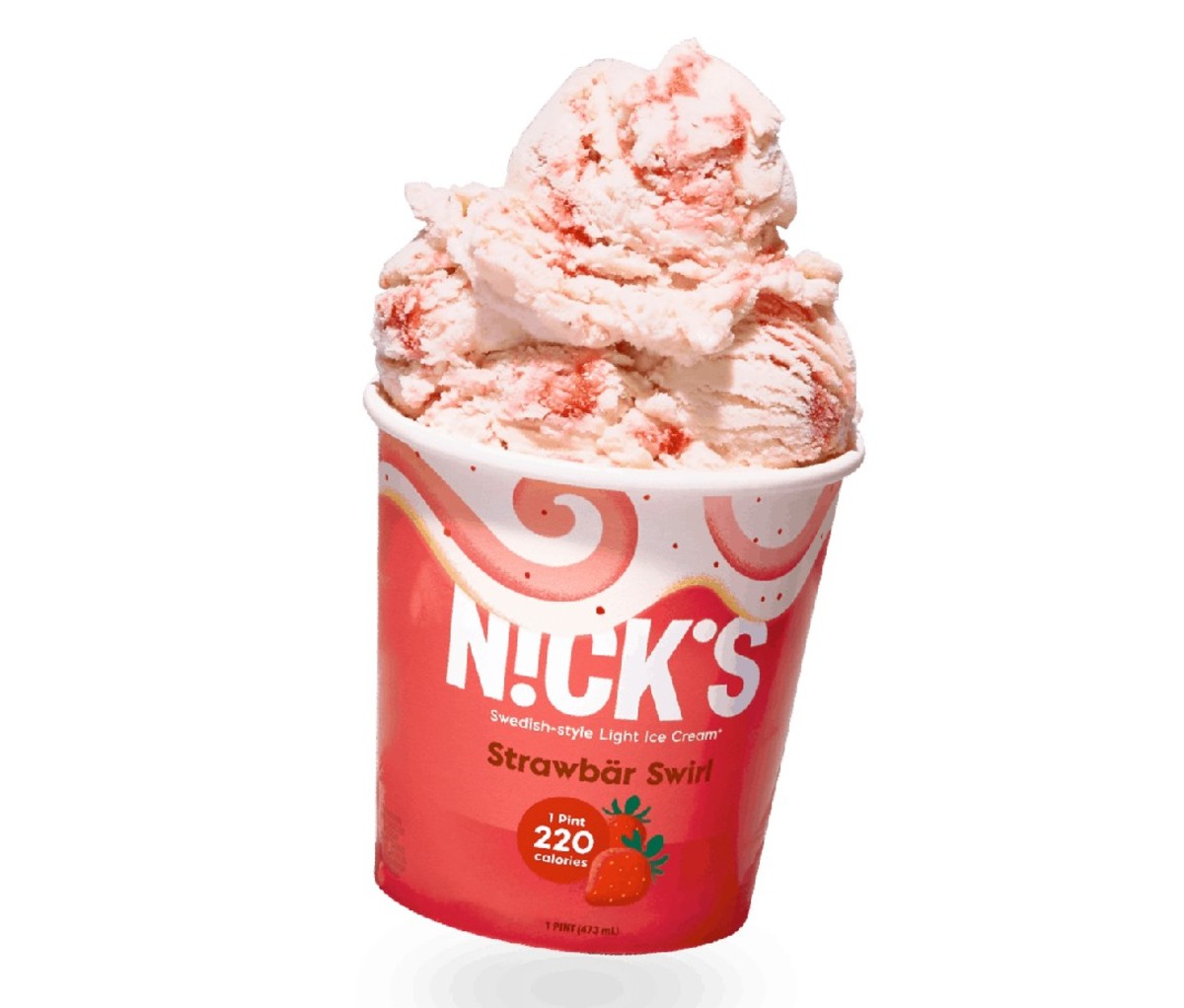 4. Nick's Ice Cream
It's hard to believe how an ice cream that doesn't have added sugars, synthetic ingredients, or artificial sweeteners can be this good—but this Swedish-style ice cream hits the spot. Pints range from 220 to 360 calories, and are available in light and keto (made with skim milk as a base), as well as vegan (made with engineered animal-free whey protein, so skip if you're allergic to dairy protein). Try Strawbär Swirl, a vanilla base with strawberry puree running throughout.
Nutrition per ½ cup serving: 60 calories, 3 grams total sugar, 1.5 grams total fat
Get it
Courtesy Image
5. Cado Avocado Frozen Dessert
This is the first dairy-free ice cream made from avocado. Cado cold presses avocado, sweetens the oil with cassava root syrup and vanilla extract among other flavorings, then churns it to a creamy consistency. The brand also has the distinction of lacking GMOs, artificial flavors, dairy, and soy. Try Cookies and Cream; dairy-free vanilla ice cream  melds perfectly with gluten-free dark chocolate cookies.
Nutrition per ½ cup serving: 170 calories, 9 g total sugar, 10 g total fat
Get it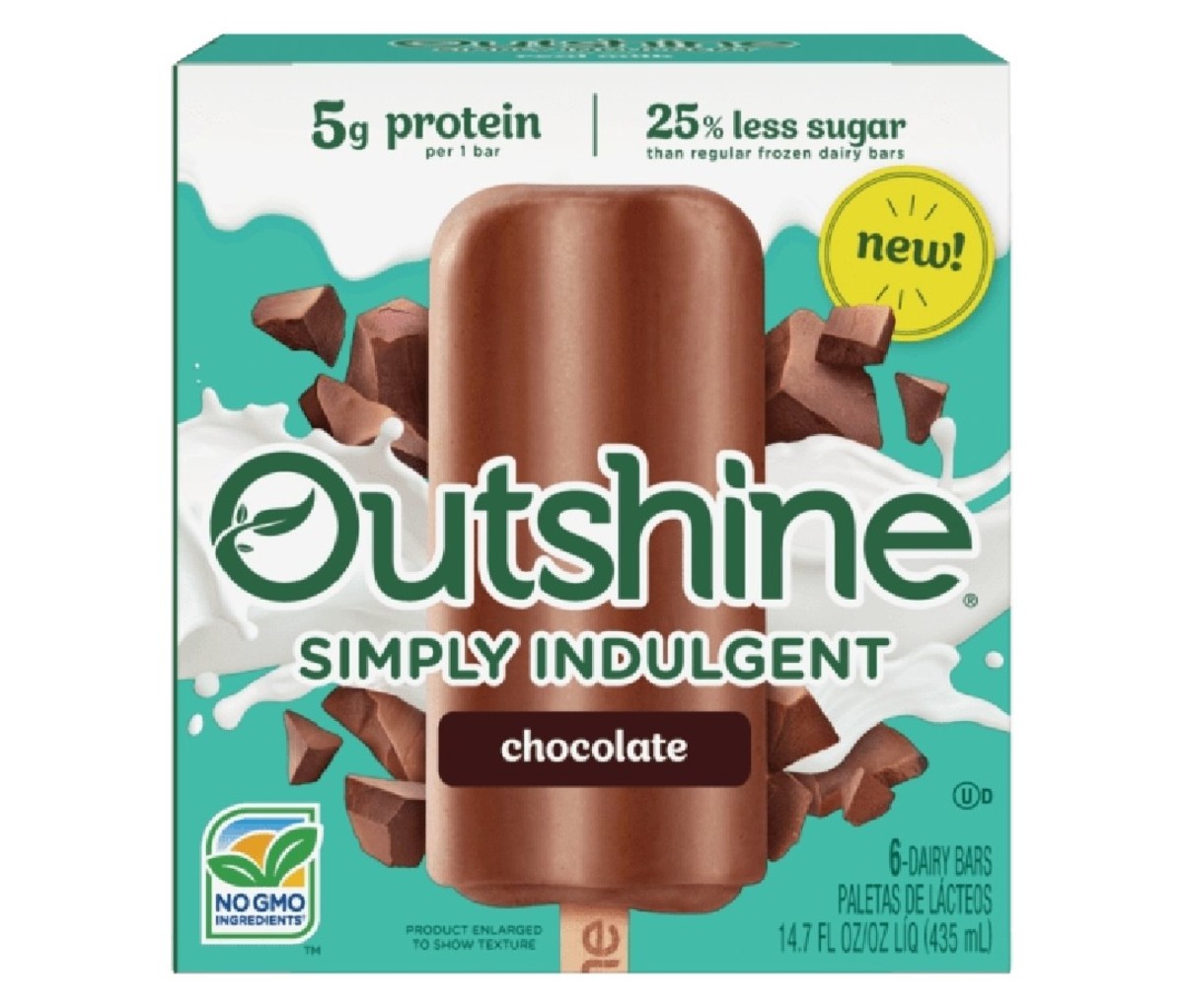 6. Outshine Simply Indulgent Bars
The bars contain simple ingredients you know (and can pronounce); no GMOs, high-fructose corn syrup, or artificial colors and flavorings. Try the Chocolate Bar if you don't want one of the classic fruit concoctions. The rich texture is thanks to skim milk, cane sugar, cream, and buttermilk, while cocoa powder, carob bean gum, and guar gum lend sweetness and chocolatey goodness.
Nutrition per bar: 90 calories, 11 g total sugar, 3 g total fat
Get it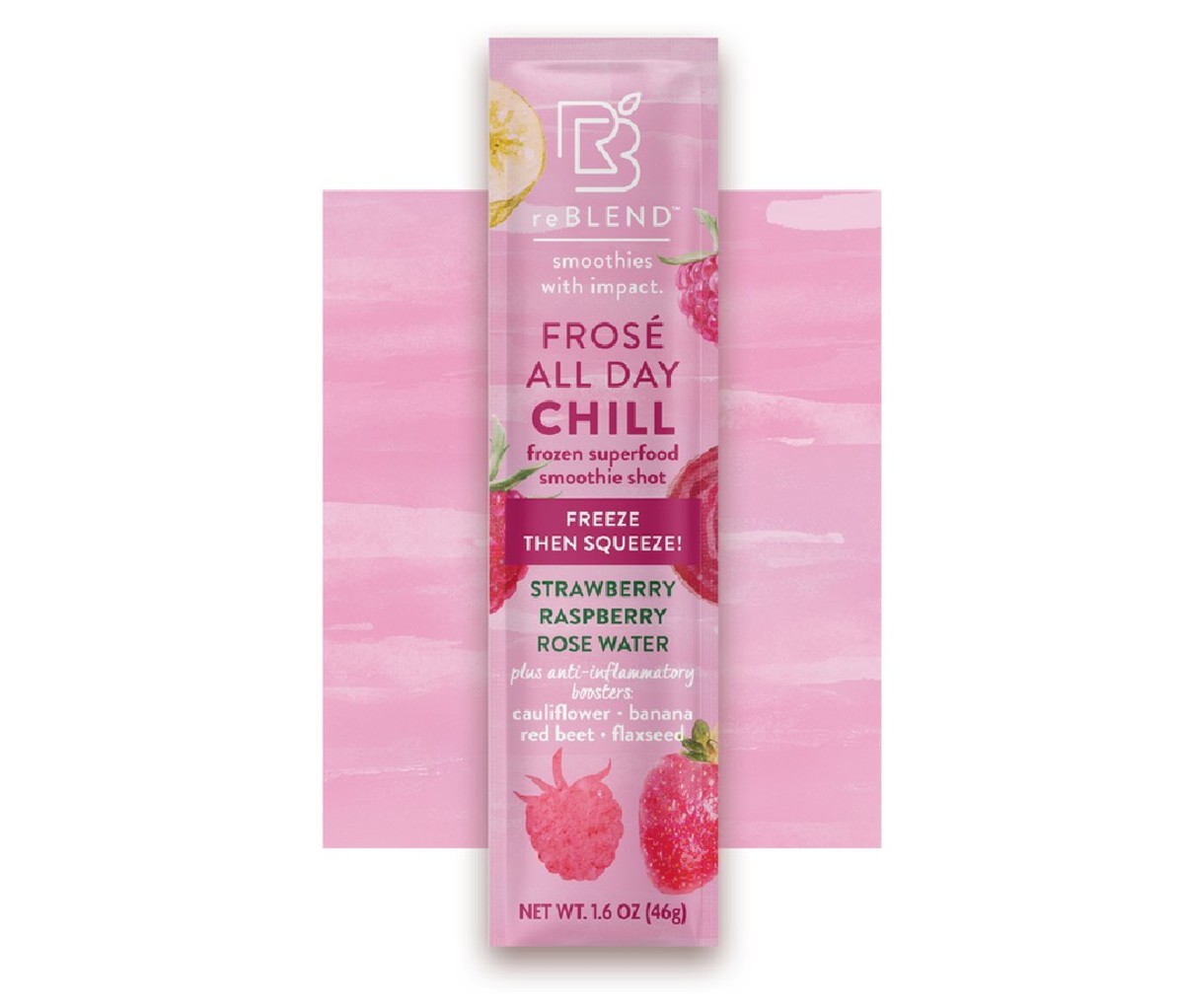 7. reBlend Pops
With a mission to make clean smoothies more accessible (and portable), reBLEND's pops incorporate unique, nutritious ingredients that may otherwise be challenging to work into a daily routine—like camu camu, goji berries, Moroccan rose water, rosehip powder, and baobab, in addition to other fruits and veggies with countless health benefits. The four blends are all dairy free, vegan, gluten free, plant based, and rich in superfoods. Try Frose All Day Chill (Strawberry, Raspberry, Rose Water). Its main ingredients include strawberry, cauliflower, banana, raspberry, cherry, date, and beet.
Nutrition per bar: 30 calories, 4 g total sugar, 0 g total fat
Get it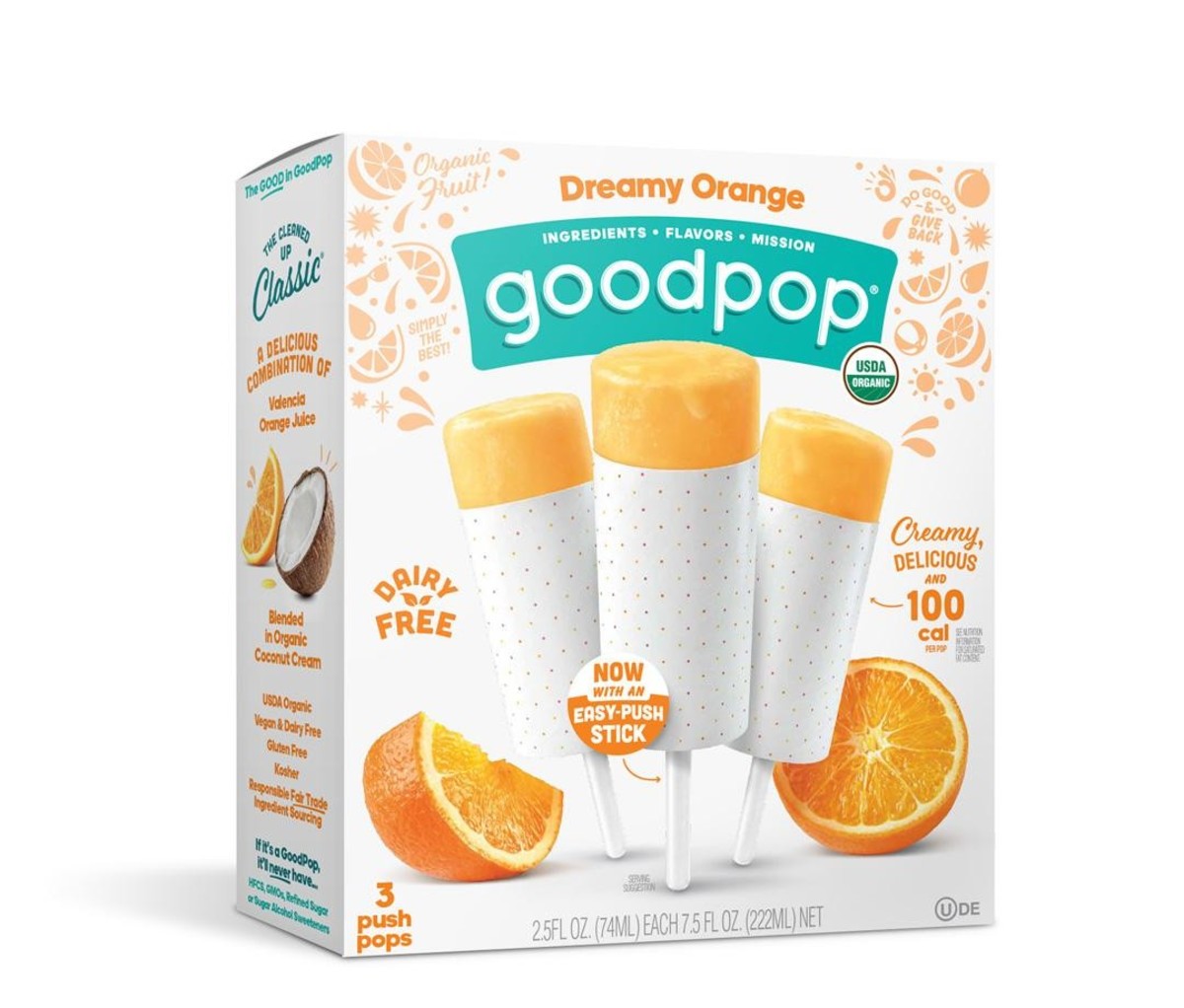 8. GoodPop
Utilizing clean, organic, responsibly sourced ingredients makes a difference. So does ditching artificial sugars, flavors, dyes, dairy, HFCS, and GMOs. Remember those Push Pops from the ice cream truck you loved as a kid? Try Dreamy Orange Push Pop. GoodPop's version uses orange juice, coconut cream, and cane sugar.
Nutrition per pop: 100 calories, 9 g total sugar, 6 g total fat
Get it
9. Chloe's Fruit Pops
These thirst-quenching fruit pops are made with just fruit, water, and cane sugar, making them dairy free, gluten free, and kosher. Try Strawberry No Sugar Added Pops; white grape juice from concentrate, strawberry puree, and lemon juice concentrate are a killer combo.
Nutrition per pop: 40 calories, 8 g total sugar, 0 g total fat
Get it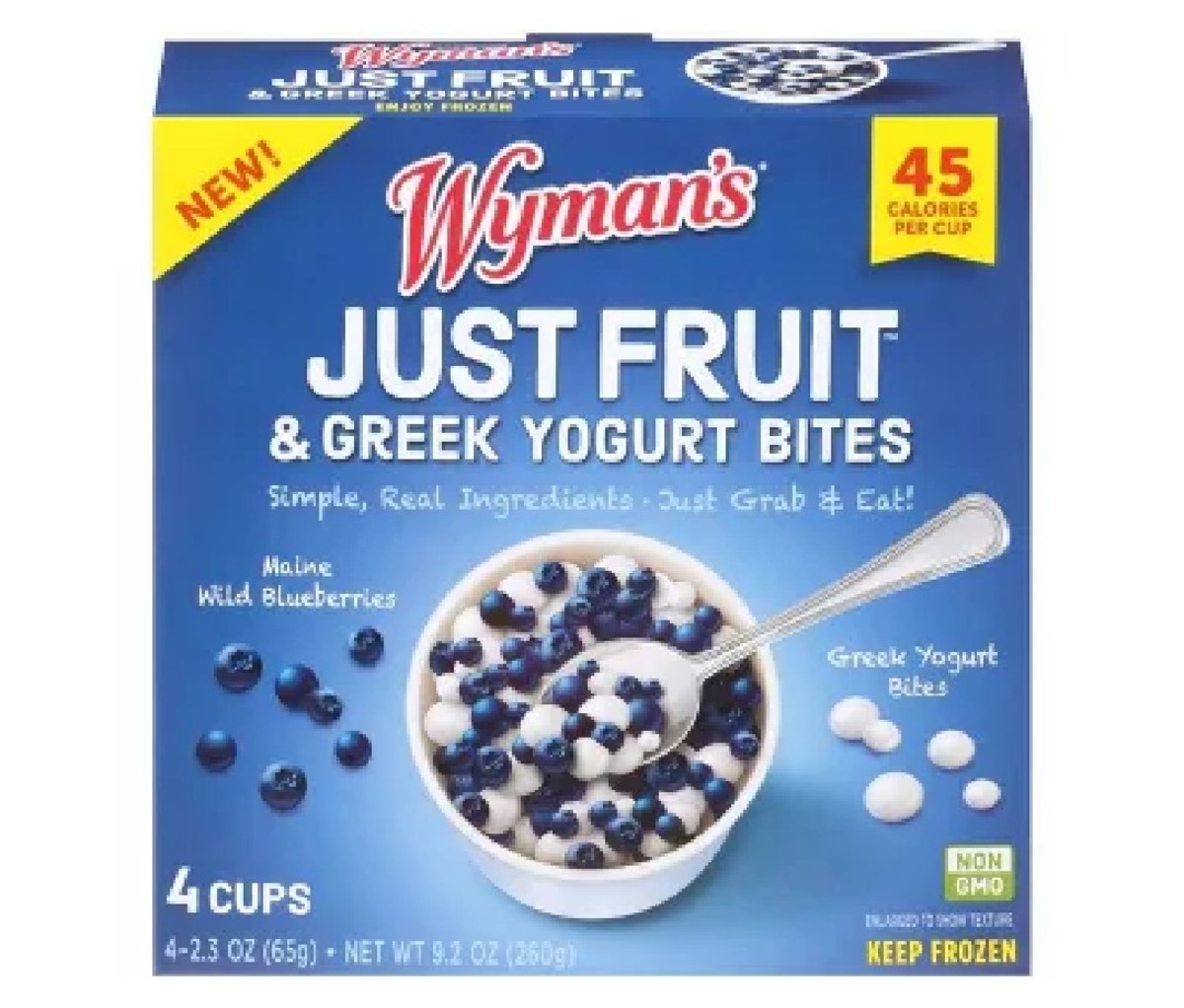 10. Wyman's Just Fruit
At only 45 calories and roughly ¼ cup of fruit per serving, these healthified Dippin' Dots are as fun to eat as they are delicious. Try Wild Blueberries. Wyman's utilizes a freezing technique to combine Maine wild blueberries with bits of Greek yogurt to create this unique treat. There's also fruit pectin, natural vanilla extract, and live/active cultures for good measure.
Nutrition per cup: 45 calories, 7 g total sugar, 0 g total fat
Get it
Jordan Mazur, MS, RD is the Director of Nutrition for the San Francisco 49ers.